Master the Art of Cross-Posting: Your Guide to Sharing YouTube Videos on Instagram
How to Share a YouTube Video on Instagram: Your Comprehensive Guide
In the world of digital communication, there's a sea of content just waiting to be discovered, shared, and discussed. We're living in the golden age of video, where YouTube reigns supreme as a platform for a vast range of content. But what happens when you come across a fascinating YouTube video that you're eager to share with your Instagram followers?
That's the scenario we're diving into today. You see, Instagram, originally a photo-sharing platform, has evolved to embrace video content, making it the perfect space to share your YouTube discoveries. But the question remains: how can you share a YouTube video on Instagram? Well, stick around, because that's precisely what I'm going to show you!
Understanding the Platforms: YouTube and Instagram
YouTube and Instagram are both household names when it comes to social media platforms. YouTube, founded in 2005, took the world by storm, providing a platform where anyone could share videos on anything, from cute cat videos to elaborate cooking tutorials. It's a place where you can spend countless hours exploring and diving into various topics.
On the other hand, Instagram, introduced in 2010, focused on sharing images and short videos, creating a vibrant, visually rich community. Now, Instagram has evolved to accommodate longer video content through its IGTV feature, bridging the gap between these two platforms.
So, it makes sense that you'd want to bring these two worlds together. Cross-posting a video from YouTube to Instagram can be a great way to engage your followers and diversify your content.
Step-by-Step Guide to Sharing a YouTube Video on Instagram
Now that you've got the basics down, let's get to the meat of the matter: how to share a YouTube video on Instagram. Don't worry - I'll walk you through it step by step. Trust me, it's as easy as pie!
1. Find the YouTube video
The first step is to find the YouTube video you want to share. Whether it's a hilarious comedy skit or an informative tutorial, choose a video that resonates with your Instagram audience.
2. Copy the URL
Once you've found your video, it's time to get the link. You can do this by clicking on the 'Share' button below the video and copying the URL.
3. Use a Video Downloader
Now, you might be asking, "Why do I need a video downloader?" Well, Instagram doesn't allow direct sharing of URLs in posts, so you'll need to download the video first. There are plenty of reliable video downloaders out there - just make sure to use one that respects copyright rules.
4. Upload to Instagram
After downloading the video, it's time to take it to Instagram. Open the app and tap on the '+' sign at the bottom center to start a new post. Choose the downloaded video from your gallery and click 'Next.'
5. Edit and Share
Now comes the fun part - making the video your own! Instagram offers a variety of editing tools that allow you to trim the video, add filters, and write a captivating caption. Once you're happy with your edits, tap on 'Share', and voila! Your YouTube video is now on Instagram.
Tips for Better Engagement when Sharing YouTube Videos on Instagram
Sharing videos is one thing, but ensuring they resonate with your audience and generate engagement is another ball game. To help your shared videos shine, I've put together a few handy tips:
Use Relevant Hashtags: Hashtags are a great way to increase your post's visibility. Use relevant and trending hashtags that relate to the video's content.

Write Engaging Captions: Captions can either make or break your post. A good caption should be catchy, relevant, and include a call-to-action.

Tag People or Brands: If the video involves specific people or brands, make sure to tag them. Not only is it a good practice to credit the content creator, but it also might get your post noticed by them!

Respond to Comments: If people comment on your post, make sure to respond! This interaction can foster a sense of community and encourage further engagement.
Conclusion: Sharing YouTube Videos on Instagram, Simplified!
In this digital age, sharing content across platforms is becoming increasingly essential. Now that you know how to share a YouTube video on Instagram, you can add another feather to your social media cap. Whether you're a social media manager or simply love sharing cool videos, this guide has equipped you with the know-how to cross-post like a pro.
Remember, the key to successful content sharing is relevance and respect. Ensure the content you share aligns with your Instagram audience's interests, and always give credit where credit is due. Now, go forth, share, and engage!
FAQs
Q1: Can I share any YouTube video on Instagram? While technically, you can share any video from YouTube to Instagram, it's crucial to consider copyright rules. Always ensure you have the necessary permissions to share the content to avoid infringing on the creator's rights.
Q2: Can I share a YouTube video directly to Instagram without downloading it? Instagram doesn't support direct URL sharing within posts, which means you'll need to download the video first before sharing it on Instagram.
Q3: Why should I share YouTube videos on Instagram? Sharing YouTube videos on Instagram is a great way to diversify your content, engage your audience, and boost your online presence. It helps to create a richer, more varied content experience for your followers.
Q4: What type of YouTube videos should I share on Instagram? You should share videos that align with your Instagram audience's interests. The content could be informative, entertaining, or inspiring, depending on what resonates with your followers.
Q5: What are the best video downloaders for Instagram? There are various video downloaders available online that you can use to download YouTube videos for Instagram. Some popular options include 4K Video Downloader, Y2mate, and ClipConverter. However, always ensure the tool you use respects copyright rules.
Q6: Can I share a YouTube video on Instagram Stories? Yes, you can share a YouTube video on Instagram Stories, but you can't share it as a video. You can share it as a clickable link if you have a verified account or more than 10,000 followers. You can also screenshot or screen record a part of the video and share it on your Story, adding the YouTube link for people to swipe up and view.
Q7: How can I increase engagement when sharing YouTube videos on Instagram? You can increase engagement by using relevant hashtags, writing engaging captions, and responding to comments on your post. Additionally, tagging people or brands associated with the video can also boost your post's visibility.
Q8: Are there any legal issues to consider when sharing YouTube videos on Instagram? When sharing a video that's not your own, it's essential to consider copyright rules. Ensure you have the necessary permissions from the content creator to share their work. When in doubt, always credit the original creator.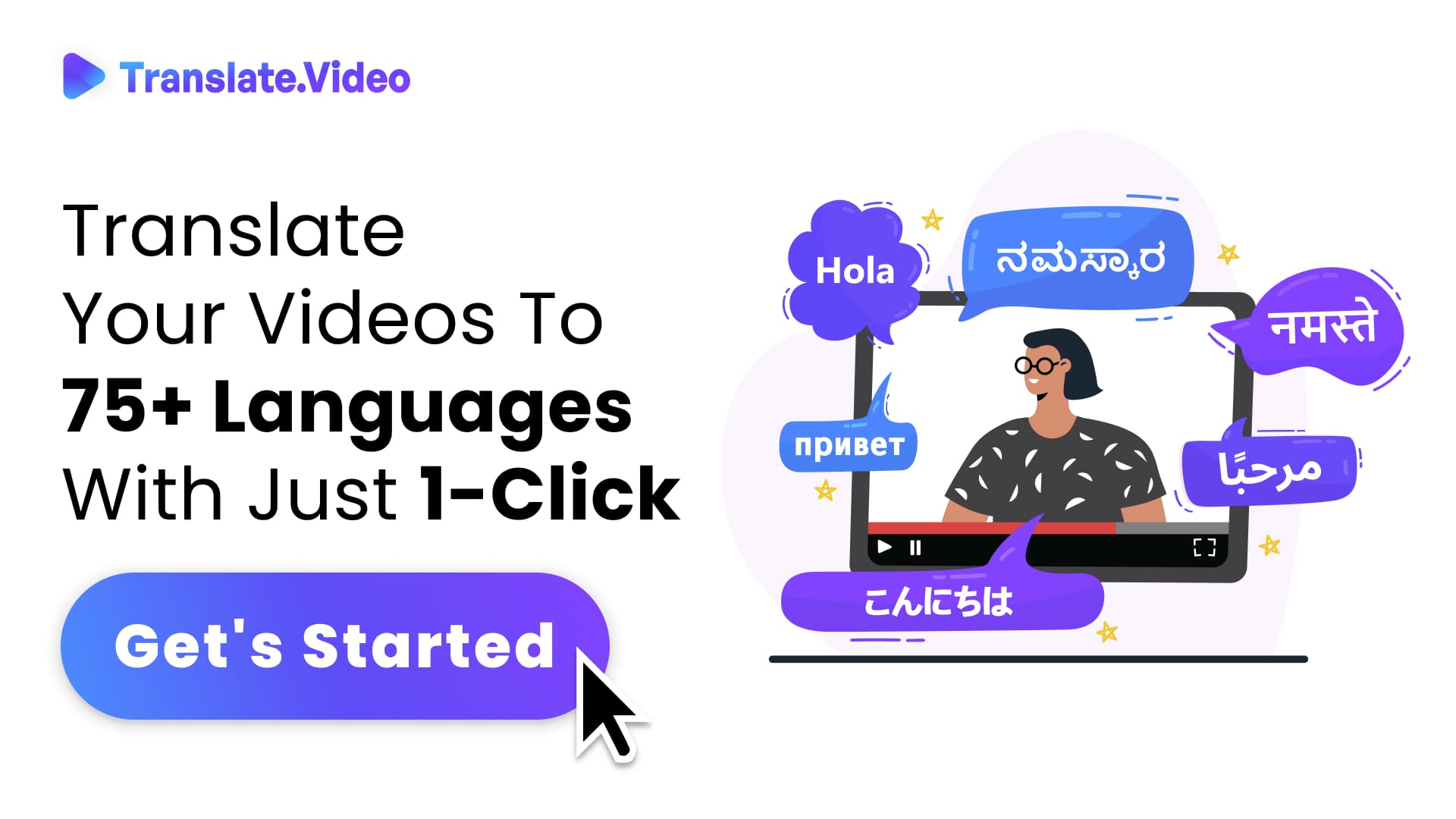 What are you waiting for?
Your Dubbing, Subtitles, Captions in one place
Signup free!